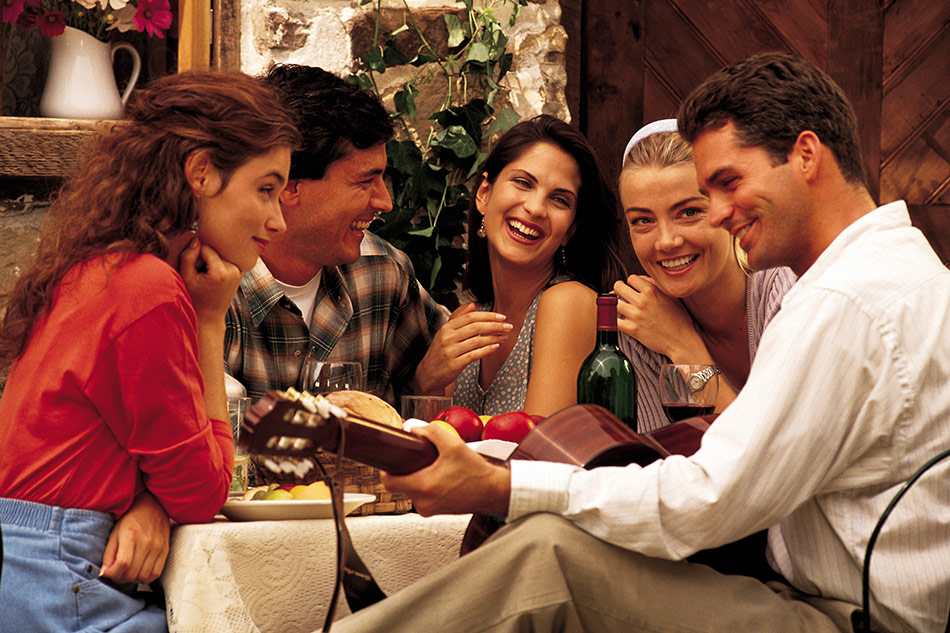 Welcome to our warm, beautiful country. Australia has so much to offer our students. The whole time you spend in Australia will be a truly wonderful learning experience.
Australia's warmth and hospitality are catching – it doesn't matter what country you come from, it doesn't matter what colour your skin: as you walk past most people, they smile and say hullo.
Your time in Australia will not only be spent studying - much of your leisure time can be used for excursions, visiting tourist attractions such as The Blue Mountains, Opera House, Bondi Beach. You will also be able to travel to other states to see places such as Uluru (Ayers Rock), Kakadu National Park or spend time relaxing on our magnificent, clean, white, sandy beaches.
If you are an overseas student, you need to remember that the Australian Government requires overseas students to abide by their student visa conditions, their commitment to study and to achieve academic excellence.
We are glad to welcome you as a prospective student and look forward to working with you to further your career goals and your lifetime dreams.
Elizabeth Absolon, Managing Director
Pre-Arrival Information
There are a few things that you need to remember before leaving your home and your country. Please make sure you plan your departure carefully and pack the following documents:
Passport
Visa
Letter of Offer
Confirmation of Enrolment
Your international Driver's Licence (if you have one)
Notarised copies of your previous Educational Qualifications
Evidence of your English Language Proficiency/Skills
Remember that there are now restrictions on planes on what you can and cannot bring – check with Travel/SECURE.
Australia's strict quarantine regulations also mean that you cannot bring in certain types of foods, plant or animal products, so you should also check the Department of Immigration and Border Protection website for detailed information about these issues.
Arrival in Australia
From the time you step off the plane, you will experience Australian hospitality. If required, one of our friendly staff can meet you at Kingsford Smith Airport in Sydney when your plane arrives. You then have a short trip to your destination. You can choose to travel by car, train, bus or - for an additional charge - by taxi or by limousine.
Our staff will assist you to settle in at your place of residence. Any queries you have you will be able to ask our Overseas Co-ordinator to help you settle into your new way of life.
Climate
Australia is well-known for its temperate climate. Sydney has a beautiful, sunny coastal climate with winter temperatures averaging 18 degrees celsius and a summer temperature averaging between 28 – 30 degrees Celsius.
That doesn't mean you come without a coat and some warm clothes, as there are occasions when the temperature falls to a low 8 degrees celsius with some parts of New South Wales having temperatures of 0 degrees or –0 degrees. Of course, if you wish to go skiing in our beautiful Mt Kosciusko region in the winter months, then you do need to bring warm clothing.
Recreation and Sport
Sydney offers a variety of sporting and recreational activities. These include swimming, golf, tennis, sailing, scuba diving, tennis, horse riding, abseiling, hang-gliding, bushwalking, soccer, rugby, boating, cricket, fishing, archery – the list is endless. A four-hour trip takes you to the magnificent Australian ski slopes where you can ski to your heart's content in winter. For those who prefer the warmth in winter, a trip to Queensland's well-known tourist attractions can also provide endless hours of fun.
The Canterbury-Bankstown region is close to Sydney and has numerous venues for picnics, sightseeing and – in nearby animal parks such as Symbio Wildlife Zoo – you can feed kangaroos, pat koalas and watch wombats. Beautiful, colourful parrots; white cockatoos; pink and grey galahs are plentiful in the region. Sydney has its own Botanical Gardens overlooking our magnificent Sydney Harbour and Opera House.
Proposed Budget
Obviously, international students are responsible for their own living expenses whilst in Australia. Bankstown is a major Sydney suburb and is part of the Canterbury-Bankstown local government area. Living in the Canterbury-Bankstown district is cheaper than living in the Central Business District of Sydney and yet is only a short 20-minute train trip to the city.

We have prepared a proposed budget to give you an idea of the cost of living for twelve months in the Canterbury-Bankstown region. The costs are based on your sharing rental accommodation with two other students. All costs are in Australian dollars and are approximate only. Remember that costs will vary according to your personal lifestyle and preferences. You should budget for expenses of approximately $21,000 per year for living expenses. If you are married, you will need about $7,000 per year for your spouse and about $3,000 per year for each child.
Your student visa will allow you to work up to 40 hours per fortnight, so you can earn approximately $600 - $1000 or more weekly to supplement your own funds. Your student visa allows you to work unlimited hours during College holiday breaks of up to 12 weeks.

Accommodation
Accommodation can be arranged with families in private homes. This is called homestay and generally includes an individual room plus three meals a day. The benefits of homestay are that you live in the safety of a family environment. If you require assistance with finding accommodation while you study with us, The Illawarra Business College can help you with this by referring you to an accredited, recognised Real Estate Agency or Home Stay Agency.
Accommodation is also available by renting a home unit, town house, villa or a free-standing house. A free-standing house normally has a fenced garden with lawns surrounding the house – ideal for families with children. Accommodation can be rented with one to four bedrooms and normally includes a kitchen, bathroom, internal toilet, lounge room (salon) and eating area (dining room).
The average costs of renting these types of premises in the region ranges from $200.00 to $600.00 per week depending on the type of accommodation you choose. Electricity and telephone usage are additional costs. Students can choose to share accommodation, thus reducing your weekly accommodation expenses.
Homestay Accommodation
Homestay allows you to live with an Australian host family – providing you with an authentic Sydney living experience. Homestay families charge a fee that covers accommodation, breakfast and/or dinner and/or lunch. Internet access is also often included. We can refer you to homestay accommodation for your arrival in Australia.
Shared Housing
Sharing a house or apartment is the most popular accommodation choice for most of our international students. The following websites can help you to find the perfect room and/or roommate:
Rental Accommodation
Should you prefer to live alone or with friends, you can rent (or 'lease') a house or apartment. Rental prices vary considerably according to location. Accommodation in the area around Bankstown is much cheaper than living in Sydney's Central Business District. You will need to pay a bond upfront – usually four weeks rent – in the event of damage to the property. View current rental listings at the following websites:
Working in Australia
International students are allowed to work up to 40 hours per fortnight whilst studying. During vacation periods students can work full-time. This means that you can earn money in Australia to support yourself whilst studying.
The Illawarra Business College has an association with a local recruitment agency and can assist you with finding employment in the region.
One of the benefits of studying with The Illawarra Business College is that we offer short training courses in Hospitality services (at a small additional cost) to give you some basic qualifications you need to work in Australia as a waiter, bartender, or in gaming establishments. Contact our marketing department to request information about these short employment courses.
Course Details
A number of our courses have pre-requisites which you must have if you wish to enrol in those courses. For example, our Diploma level courses require you to have the equivalent of Year 12 level Australian schooling (e.g., High School Completion Certificate, Matura) or 10+2 years' schooling or be a mature-age student.
English Language
International students who wish to study in Australia must obviously speak English. If English is not your first language, you will be required to be tested in your English language proficiency. Your score must be to the IELTS level of 5.5 or TOEFL level of 550 English standard. Testing is available in your country.
You can enrol in an English language course in Australia if your IELTS or TOEFL scores are not sufficient. For example, if you score IELTS 4.5, you can enrol in an English course in Australia for 20 weeks prior to the commencement of your vocational studies. If you score IELTS of 5.0, then you would need an English language course of 10 weeks prior to the commencement of your vocational studies.
If you wish to study English in Australia, contact us to find out more about English language courses.
Emphasis on Quality and Curriculum
Our courses are all accredited by the Australian Government. Courses are based on qualifications endorsed by Service Skills Organisations. This gives students the assurance that the training received is of the highest quality and the curriculum being followed is relevant to the industry that the training relates to.
Government Recognition
The Illawarra Business College is registered with the Australian Skills Quality Authority (ASQA). Overseas students can be assured that their training is being conducted by an organisation that is on the Commonwealth Register of Institutions and Courses for Overseas Students (CRICOS). Our CRICOS number is 01497F and our College Provider number is 90191. This means that the Australian Government has endorsed the College as a training institution offering professional courses.
Industry Recognition
Our College is also recognised by industry as a provider of accredited training with corporate membership of Queensland Tourism Industry Council, Australian Council of Private Education and Training (ACPET), Australian Institute of Office Professionals (AIOP), Restaurant and Catering Association (RCA). The College is also the holder of a Security Industry Master Licence (Licence Number 40812195) and is a member of the Australian Security Industry Association Limited (ASIAL).

We are proud that our Training Restaurant has been endorsed since its opening a few years' ago by government authorities with the coveted Five-Star 'Scores on Doors' certification, attesting to our high standards in operating the training restaurant.
The College is also approved by the NSW Food Authority to provide courses for Food Safety Supervisors (FSS). We are also approved by the NSW Department of Industry (Liquor and Gaming) to provide courses in Responsible Service of Alcohol (RSA) as well as Responsible Conduct of Gambling (RCG).
Endorsement by these bodies ensures that training provision and examinations are provided to the highest ethical standards.
Health Insurance
International students must take out health cover before you come to Australia. This is a requirement of the Australian Government. Please note that if your family accompanies you to Australia, you must take out family rate of cover.
What this means is that for a small charge called the Overseas Student Health Charge (OSHC), international students (and their families) receive free public hospital care (in a shared hospital ward) and a rebate of approximately 85% of standard medical fees. Students are usually covered for pathology, radiology, eye-sight testing and emergency ambulance.
Your agent can assist you in applying for your OSHC card.
Money and Banks
Australian dollars are the only legal tender accepted in Australia. Australia uses decimal currency with 100 cents in a dollar. Bank notes are in $5, $10, $20, $50 and $100 plus there are 5c, 10c, 20c, 50c, $1, $2 coins. Money from other countries can be changed at our international airport, larger banks and major hotels. Travellers cheques are easy to use if already in Australian dollars. Automatic Teller Machines are readily available.
The most commonly accepted credit cards are Visa, MasterCard, American Express, Diners International.
Food
Australia has a plentiful supply of food. Our multicultural profile means that we have foods from countries all over the world, so you should have no trouble finding foods that you are used to in your country.
There are food shops selling vegetables from various countries and our supermarkets also sell a wide variety of foods from different countries.
There are also restaurants specialising in cuisines from countries such as China, Thailand, Vietnam, Africa, Europe, Mexico, Brazil, etc., so you will also have the opportunity of sampling food from many other cultures.
Fees
Payment of course fees is via Bank Draft (AUSD) or direct deposit payable to Focal Holdings Pty Ltd t/a The Illawarra Business College for the registration fee and tuition fees. Payment is to be made as follows:
25% - 50% on Acceptance of Offer of Enrolment;
Balance to be paid in equal instalments as per the conditions of the Letter of Offer.
A non-refundable registration fee of $250.00 is payable on acceptance of offer of enrolment.
NB: A students' signature on the Enrolment Acceptance and Payment Advice form constitutes contractual acceptance for the payment of all fees as they fall due.
Refunds
"Course" refers to the whole period for which the Acceptance Advice letter of Offer is issued. Students should refer to the College's Refund Policy under the heading 'Discover and Apply' on the website. Students cannot transf er tuition fees to another student. Students cannot transfer to another course at another institution in less than 6 months of enrolling in their primary course of study.
NB Special consideration will be given to refund of fees in extenuating circumstances, following written application to the College management.
Withdrawal
If a student desires to withdraw from a full-time course at the College prior to completion of the normal expected training period offered by the College, not less than two calendar months notice is to be given in writing to the principal.
The College must report any application for withdrawal to the Australian Department of Immigration and Border Protection (DIBP) or their successor via PRISMS.
Suspension
The principal of the College may at his/her discretion suspend or require withdrawal of a student for failure to abide by College regulations. The financial obligation of the student/parent will not be affected by the exercise of such discretion.
Attendance
If on a student visa, students must attend a minimum of 80% of timetabled class and self-access hours.
Change Of Address or Personal Details
Students must advise the College of any change in residential address or any personal details within seven days, e.g. email address, physical address, telephone number, etc.
Student Visas
Acceptance to any course offered to overseas students is conditional on the applicant satisfying the requirements and conditions of the Australian Governments' student visa requirements and receiving a student visa from the Australian Government. More information about student visa requirements is available on the Department of Immigration and Border Protection website.